Your Dough Experts at Euro Pizza Products
Frans van Buuren
Frans is a true polyglot and cosmopolitan. His career allowed him to enjoy the diversity of our planet in six countries on four continents. Today, he consults our key accounts, and clients in Southern Europe and Africa in German, French, Spanish, Italian, English, and Dutch.
Jan Willem Brandt
Jan Willem is part of our international account managers since 2018, and dedicated to consult our clients in the Nordics and German speaking countries. His quick wit and good sense of humour helps him breaking the ice and make client meetings a pleasure for everyone involved.
Mahir Faquy
Mahir is responsible for our customers in the UK, Ireland, and middle eastern countries getting the dough that fulfills their wishes. He's also always up for a chat regarding the current events in the world of football.
Rick van Vliet
Pizza has been the great consistency of Rick's professional life. Since his 16th birthday he has worked for New York Pizza as a pizza courier, pizza baker, pizza shop manager: his expertise is second to none and a real asset for clients and the team alike. Rick is always ready to help you to find the best solution and make you the right pizza.
Stuart  Stender
Stuart joined EPP and the Management Team in October 2020 and leads the company's commercial success. He always challenges the status quo, invests in the future of his commercial team and customers and is constantly looking for new innovative products that will lead to the commercial success and of course most important happy customers!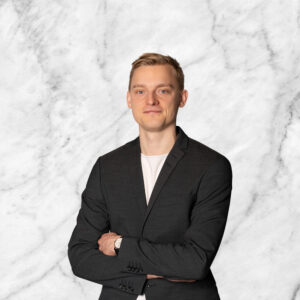 Robert Fischer
Robert joined Euro Pizza Products in 2020 as our content & lead generation coordinator. Equipped with a degree in literature and a way with words, he is in charge of our marketing efforts to stimulate the growth in expanding markets.
Dawid Andrzejewski
Dawid's growth within EPP is testimonial to his dedication for his job. Starting as a temp worker in our production facility's, he was a driver of the company's effectivity and is now in charge of his production team. His second passion after dough is his shoe collection which consists of over 40 pairs.
Martijn Kuiken
First man to arrive, last man to leave, Martijn leads the production team by example. His high energy stems from the daily adrenaline rushes he gets from racing his mountain bike through the Dutch trails.
Peter Struijke
As our head of production, Peter has dedicated his life to continously optimising our products, always chasing the perfect dough. If you ever hear somebody passionately singing the songs of Queen in our production halls, you know Peter cannot be far away.
Richard Paardekooper
Richard has joined the production team in 2016 in a leading position. Ever since, he has made it his mission to improve the quality standards even more every day. In his spare time and holidays you can usually find him enjoying a coffee on the terraces all over Europe.
Anneke Benders
Anneke is part of our dedicated customer service team and organizes all orders from our customers and is always ready to help you to find the best solution.
Gijs van der Pijl
Gijs joined our customer service team in 2021 takes care of our clients request on Saturdays. In leisure time he enjoys the fine things in life, like art, music and the natural beauty of the orchids he grows.
Kris Silvius
Kris, our team lead of Customer Service, is not only dedicated to ensure our Customers enjoy the best service, but also our internal undefeated Pac -Man Basketball Champion.
Michael Crombeen
Customer Service employee and inofficial Chief Happiness Officer, Michael's contagious good mood is equally appreciated by customers and colleagues. He also holds the record for most peanut butter sandwiches eaten in a single lunch break.
Kirsty Tadema
The fitness fanatic joined EPP in March 2021 as a Supply Chain specialist. Kirsty is the muscle that keeps our operations moving and always looking for processes which can be improved.
Marcin Kruk
Never seen without his trademark baseball cap, Marcin runs our warehouse since 2016. In his leisure time, he likes to work out mentally and physically, with challenging chess matches and long gym session.
Monique van de Wiel
Since Monique joined EPP in 1994 she experienced the company's growth from an ambitious 4 person operation to the global player we are now. She is an as integral part of the history of EPP as our dough.
Rowin Zaal
Rowin joined the operations team of EPP in 2018. Even though he is a fitness fanatic, he cannot resist a delicious truffel pizza – of course baked with the perfect crust!
Bo Haasbroek
As the right hand of the management team and assistent purchasing, Bo plays in integral part in making sure internal and external processes run smoothly. Next to her job responsibility, she also functions as the glue that keeps the team together.
Kim Berends
Kim is a real business powerhouse and responsible for all financials and business information within EPP as business controller and part of the Management Team. After a day's work at EPP as our controller, she still has enough entrepreneurial energy to run her very own earring shop.
Teun van Genugten
At his first day at Euro Pizza Products, Teun started with building a new production facility. As general director, he never stopped building on the organization and the new facilities since then. It's just like LEGO; always adding or creating something new or better.